St. Mary's
Antiochian Orthodox Church Newsletter * Nov-Dec 2015
St. Mary's Annual Church Party
Our annual church party held at the Mississauga Grand on Saturday, November 21st was a wonderful celebration. Parishioners of St. Mary's and their guests feasted on a delicious three course meal and danced the night away to the Arabian stylings of the talented George Adra and Maestro Ali Kurdi. St. Mary's dabke group performance was a spectacular finish to this blessed event! Special thank you to Abouna, the ladies society, Haifa Ballan and Nabeel Sleiman for selling tickets and for organising this event. A heartfelt thank you to George Adra and Ali Kurdi for donating their entertainment service to our parish. May God bless you for your time and generosity.
Feast Day of Saint Barbara
Eid il Burbara
Eid il Burbara, known as Saint Barbara Day is celebrated on December 4th.
The Story of Saint Barbara:
Barbara and her father lived in Heliopolis which is now known as modern day Baalabek in Lebanon. Barbara's father was a wealthy man so he build a tower to hide Barbara because she was extraordinarily beautiful. Barbara had a profound interest in knowing God. One day a priest disguised as a merchant came to the city and after instructing Barbara of the mysteries of the Christian Faith, he baptized her. When her father learnt that she was a Christian he grabbed a sword and almost struck her with it. Barbara was afraid and fled, but her father began to chase after her. She ran to the hills and hid. Finally, her father found her and handed her over to the city where St. Barbara was tortured. Another woman Juliana was so moved by St. Barbara's courage and denounced the torturers in a loud voice and as a result she too was seize. Both St. Barbara and Juliana were repeatedly tortured and beheaded. Barbara's father was even the one that delivered the fatal blow to his own daughter. St. Barbara became a martyr because her life was taken for her belief in the Christian faith. She sacrificed her life for Christ. REFLECTION: How many of us would sacrifice our lives for our belief in Christ?
The Celebration of the Feast Day of St. Barbara at St. Mary's Antiochian Orthodox Church:
Adults and youth alike enjoyed the delicious sweet and savoury Burbara that was prepared with loving care by the St. Mary's ladies society. Kids squeeled with glee as they dressed up in costumes and brighly coloured masks. They were entertained with games planned by the St. John the Divine members.
Symbolic meaning of the costumes:
Unlike the pagan ritual of Halloween, our children attended church dressed up in costumes and masks in remembrance of Saint Barbara who wore costumes as various characters in a effort to disguise herself from her father and the Romans.

Byzantine Music & Arabic School
Abouna and the members of St. Mary's Antiochian Orthodox Church came together to established the Byzantine Music & Arabic School in the beginning of November. The first day of class was a huge success, with over twenty of our children in attendance. Teaching our children the sacred music of the Byzantine rite as well as the Arabic language is an essential way to teach them the prayers, sacraments and services of the Orthodox church. The Byzantine Music & Arabic School will equipt our children with the knowledge needed to be future psalters or active members of the clergy. Special thank you to Mishline Sleiman, Rabab Okal, Blank and Blank who volunteer each Saturday to teach our children. May God bless you and keep you strong so you can continue His service!
A Very Special Happy Birthday to...

George Sleiman who celebrated on November 2nd

Fadi Sleiman who celebrated on November 21st

Susan Marar who celebrated on November 29th
Shadi Barbara who celebrated on December 2nd
May God grant you many more years of health and happiness!
On Saturday, November 14, 2015 Vincenzo and Dimah LoManto Baptised their son Calogero Michael LoManto. May God bless baby Calogero as he continues to grow in Christ.

Christmas Liturgy
Type stuff about the mass etc.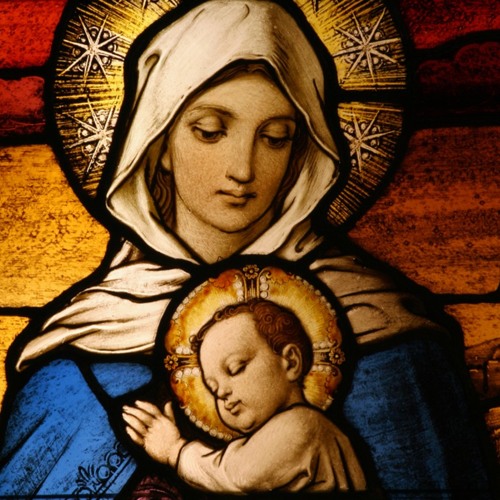 km.t
فيروز - أرسل الله by km.t
St. Mary's Potluck Christmas Party
The aroma of delicious food filled the air at this years Potluck Dinner Christmas Party on December 27th. Parishioners came together to share laughter and joy of this holiday season - to break bread with one another in celebration of the birth of our saviour. "Also that everyone should eat and drink and take pleasure in all his toil—this is God's gift to man". -Ecclesiastes 3:13
St. Mary's Leading a Helping Hand to the Community
The ladies society work hard all year round. They help provide a sense of family and togetherness within the Church by organizing parties and gatherings. However, that's not all they do. The ladies society has also taken it upon themselves to organize events that truly reflect our responsibility as Christians, which is to fulfill our roles as followers of Christ by serving others in need. With the leadership of the ladies society, St. Mary's collected non-perishable food, lightly used clothing and furniture items which was donated to (blank) organization.
Looking Back, St. John the Divine Garage Sale
During the summer the former board members of St. John the Divine organised a garage sale to help raise money for the building of our church. Special thank you to Mishline Sleiman, Shadi Barbara, Diane Thai-Baba, Blank and Blank. We would also like to thank the parishioners that donated items, it was because of your generousity that we were able to raise $2,000 on one Saturday for our parish. Special thanks to all the volunteers. From the kindess of the members of our parish that sacrificed their Saturday to work at the garage sale to members of our neighbouring churches that came to role-up their sleeves to lend us a helping hand or to bring us coffee. This day was truly a reflection of what building a church is all about. Coming together as one, for one cause - to erect a church in an effort to spread the word of God.