My Story..
Hi, everyone! My name is Dillon. A kind-hearted Good Samaritan found me abandoned outside and tied to a radiator. I'm not sure why some humans can be so cruel! But, my luck took a turn for the better when I got hooked up with AARF.

My foster mommy's love has helped me forget all about my rough start. She is amazing and has been taking good care of me. But you see, this a temporary gig. My foster mommy is standing in the gap until my forever family, which I hope is you, comes along and sweeps me off of my feet.

Let me give you a quick rundown about me. I'm a majestic grey and white colored Terrier mix. Yes, I know that we've been getting a lot of bad press lately, but that's all lies! I bet you didn't know that the likes of Helen Keller, President Theodore Roosevelt, General George Patton, President Woodrow Wilson, and various other famous public figures shared their lives, hearts and homes with pit bulls. So, you've got nothing to fear! By the way, you can thank me in person for the quick history lesson. Anyway, I'm around 3 years old and a good size for my breed. Sorry for the sketchy details, but given my background, we've got to be flexible! Before I forget. Yes, I've got a clean bill of health.
Moving right along. I'm learning all sorts of wonderful things while in my foster home. Having not lived indoors previously, I'm getting the hang of potty training. So, please bear with me; this is all unchartered territory. I'm also learning about the crate-training phenomenon. Watch out, I can be quite the escape artist! I bet you are wondering about my leash skills; I'm still a work in progress. Good news is that I'm quick study, and practice makes perfect!

Okay, I'm winded just talking about myself. I'm a happy little guy who's looking for his big break. I'm still a little rough around the edges, in a good way of course, but who isn't! What matters is that I have a humongous heart and a lot of love to give to my human(s). I just want to be loved and to love someone unconditionally and eternally. Can't we make each other's dreams come true? Because, I know that you are looking for the perfect cuddle buddy. Look no further, because I'm your guy!!!

Please fill out the adoption application below, or visit www.animalalliesrescue.org to take me home today. And in case you missed it, my adoption fee is $175, which covers my routine vetting, neutering, vaccinations, microchip, and even 30 days of FREE pet insurance!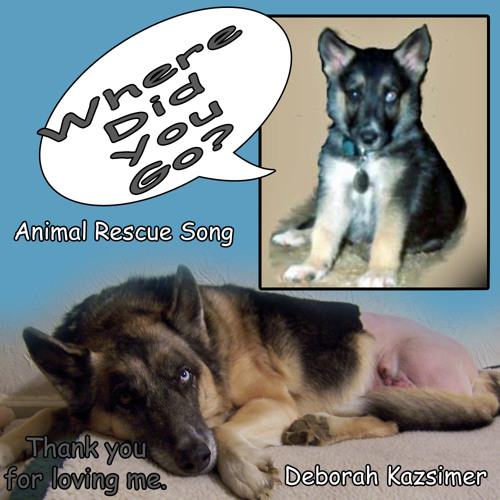 Dogmom
Deborah Kazsimer Where Did You Go- (Animal Rescue Song) by Dogmom
About Us
Animal Allies Rescue Foundation
(AARF) is a 501(c)(3) all-volunteer non-profit organization dedicated to promoting the rescue and adoption of abandoned, abused, homeless, and neglected animals.