EDEL 411 Section B John Hauer
MacDonald, M. R., & Taibah, N. J. (2009). How Many Donkeys? An Arabic Counting Tale. Morton Grove: Albert Whitman and Company.
Awards: 2010 Best English Language Children's Book, Sharjah International Book Fair
About the Authors
Margaret Read MacDonald specializes in retelling and publishing folktales in new and exciting ways for children. She was born in 1940 in Seymour, Indiana and now resides in Seattle, Wahington. She has won many awards throughout her long career as an author/storyteller.
Nadia Jameel Taibah lives in Jeddah, Saudi Arabia. She got her knack for storytelling from her mother, and wanted to pass on her love of reading to other children.
About the Illustrator
Carol Liddiment was born in Widnes, in Cheshire, England and currently lives in Suffolk, which is also in England. She is a teacher, as well as being an illustrator of children's books. She used paint as the media to illustrate this particular book.
Criteria for High Quality Multicultural Literature
1. Include a member of a "minority" group for a purpose other than filling a "quota".
This book has only Arabic characters in it.
2.
Demonstrate unique language or style.
This book uses the Arabic words for counting from one to ten all throughout the book. It also includes Arabic character names, and the Arabic word for "dad".
3. Invite reflection, critical analysis, and response.
As students read the book, they will wonder why Jouha keeps miscounting his donkeys. They will probably have many interesting ideas as to why this is happening, and then why he counts them correctly when he dismounts to count them again. By the end of the book, they will probably realize that he is forgetting to count the donkey that he is riding on.

How Many Donkeys? Lesson Idea
Grade Level - 1st Grade
SL.1.1 - Ask and answer key details in a text read aloud or information presented orally or through other media.
Students will identify and discuss key details in the story.
Lesson Procedure

Teacher starts the lesson by counting to ten in a few different languages, don't tell the kids at first what you are saying. Ask them if they if they know what the words you were saying meant. Explain that although the way people count to ten may sound very different between languages but the concept is the same.
Teacher reads the story to the students, encouraging them to join in during the counting parts. Stop every few pages and discuss who the characters are, the setting, and the plot of the story. Have students discuss these things with their shoulder parters. Talk about the different events that take place during the story, and ask students about their theories for why Jouha keeps miscounting his donkeys, or if one really does keep getting lost.
After the book has been read, talk again as a class about why a donkey keeps disappearing, and if the students haven't figured it out yet tell them that Jouha is forgetting to count the donkey he is riding on. Assessment for this lesson will be observation of the group discussions and the discussions with shoulder partners and level of participation.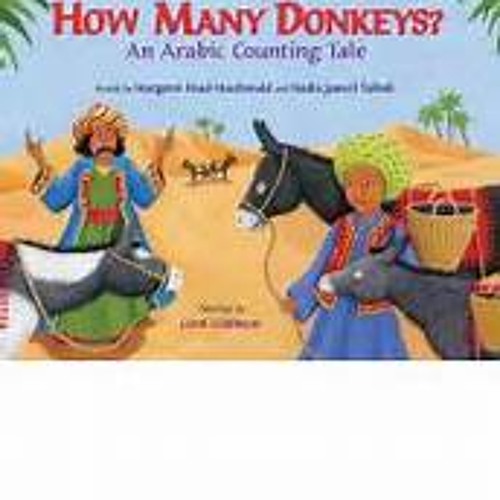 user747287362
Donkeys by user747287362