Bare Necessities
November 2018
Dear Colleagues,
I hope you all enjoyed a restful and family filled Thanksgiving weekend. I had a wonderful couple of days hosting my in-laws. My oven got a workout, the cousins had some fun quality time together, and the home was full of love and laughter.
It was rejuvenating to go into classrooms on Tuesday before the weekend and share with students and teachers our extreme gratitude for the work they each do to make AHS such a special place. We have amazing students, and remarkable educators. As the rain comes in and the hours seem to contract, it is helpful to reflect on how much we have to be grateful for at Ashland High School.
We have four weeks between now and Winter Break. It can be a long stretch. When the exhaustion and frustration hit, and we know it will, I hope you can take a minute to reflect on what you are grateful for professionally and personally. All the Best,
Erika
Ms. Kenfield Sharing the Good Work!

Bingo boards are filling up! Check out the cool pic McKael sent to share her good work. The board is filling up! Game wraps up December 5th.

Project Lead the Way

PLTW students are designing solar cars with VEX robotics in order to learn about renewable energy, gear ratios, torque and speed. They will be racing on the quad on Monday the 3rd!

Wellness Room

If you have not checked out the newly remodeled wellness room, please go take a look. The Interior Design students worked with Maryetta to create beautiful space.
Ms. Kenfield Sharing the Good Work!
Bingo boards are filling up! Check out the cool pic McKael sent to share her good work. The board is filling up! Game wraps up December 5th.
Project Lead the Way
PLTW students are designing solar cars with VEX robotics in order to learn about renewable energy, gear ratios, torque and speed. They will be racing on the quad on Monday the 3rd!
Teacher Led Professional Development
Teacher Leadership Courses
Several of you reached out with course ideas. Please review the options below. Participants and leaders are compensated for their time using teacher leadership money. If you would like to participate, please e-mail the teacher leading the PD directly and c.c. me on the message. Happy Learning!
Radical Candor Book Study: Travis Moddison

Read this fantastic book that focuses on developing skills to give feedback and guidance that demonstrates you care personally for someone, and still challenges them directly. Book will be purchased for all participants.
This group will meet on Thursdays from 4-5.
Make Learning Magical BookSnap: McKael Kenfield
This book is about transforming your teaching and creating unforgettable experiences in your classroom. Books will be provided.
This group will read on a schedule of chapters and then you get to choose when/where to respond (through a variety of on-line options)
Pop Culture: Reed Sorenson and Alan Parowski
Did you know that The Simpsons is written by Harvard trained Math geeks and contains over 100 episodes with references to obscure mathematical quandaries and tidbits like Fermat's last theorem and Mersenne's prime number? Did you know there was a best selling book called "The Simpsons and Their Math Secrets, and that one episode contains an equation which, if solved, has a million dollar Math prize attached? Did you know you could teach History with zombies and College level philosophy like deontologism, absurdism, and retributivism through "The Rick and Morty Show and The Watchmen?" Well, come on down to the hottest ticket in town and check out "Teaching Anything Through Pop Culture," the ultimate breakout session, brought to you by your friends in Catalyst, Alan and Reed. (Did you know that Breakout was a video game created in 1976 by Nolan Bushnell the founder of Atari and Chuck E. Cheese, and it was built by Steve Wozniak aided by Steve Jobs, and that it was the basis and inspiration for certain aspects of the Apple II personal computer? Well now you do!)
This will be a one-time two hour session. Once they know who is interested they will schedule a time that works for all.
On a Mission
As PAC reviewed the self assessment needed for accreditation, it became apparent that we may have some work to do on the mission/vision front. As brilliant timing has it, the week after this PAC meeting I went to a training led by Anthony Muhammad. He said something that struck at the core of my resistance to spending time writing a mission statement. In a nutshell, he reminded me that what you have written as your mission or vision statement cannot substitute for the work of actually being on a mission. Every school has something printed as their mission statement (remember, we are "Inspire Learning for Life"). Those schools that continually improve are actually on a mission. I am hoping I can gather a work group to explore this important topic, both for the purposes of accreditation, and to ensure that we are on a common mission. This work group will work from 4-5 on Mondays (we can decide how many and how often after our first meeting). You will be paid for your time. The first meeting will be Monday, December 10. Please e-mail me as soon as possible if you would like to participate!
Audio Message
I have been experimenting with doing audio messages for our weekly message to parents. I will either share important information, or interview a staff member. I had several of you ask about getting access to the messages. You can follow me on Sound Cloud at Principal Bare, or access them through the Grizz o Gram newsletters on my Smore Site. The Sound-cloud account it below. Check out the interview with Maryetta on the Wellness room!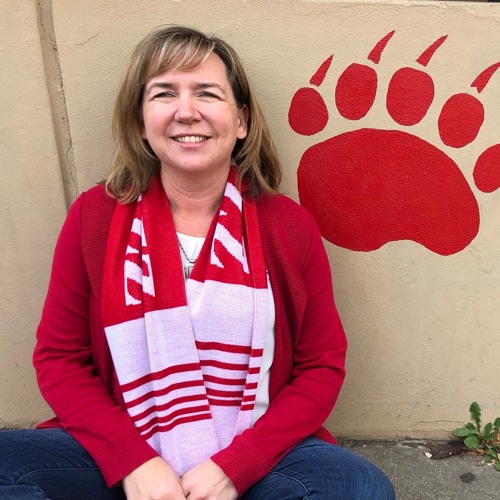 Principal Bare
Principal Bare
Ashland High School's Holiday Party!
Saturday, Dec. 8th, 5pm
The Bare Home, 1229 North Main Street, Ashland
I am looking forward to celebrating the holiday season with all of you! I hope you can join us.
What to Bring
#1. Yourselves & Significant Others
#2. Something to share-
(ex. Veggies, crackers/ sausage/cheese, etc. and we will not discriminate against anything sweet).#3. Something to wash down all of the delectables.
Please RSVP using the button below.
(Parking is always a challenge so if you are able to carpool it may save you a long walk to and from.)
RSVPs are enabled for this event.
Attendance Lessons Learned from the Senior Class
Ashland High School struggles with attendance. This has been true for a long time, and particularly true for our seniors. A regular attender is in school at least 90% of the time. If you break down last year's data by grade, we learn that 86.2 of our ninth graders attend regularly, 76.4% of our tenth graders, 79.9% of our eleventh graders and a whopping 57.9% of our twelfth graders. If you do backwards math on that, that means that 42.1% of our 12th graders were NOT attending regularly.
Although I had some preconceived ideas, I thought it best to speak to the senior class about why they thought attendance tends to drop off in the final year. The purpose of the conversation was twofold. One, I very much wanted to gain their insights. Additionally, it was important to draw attention to the problem and possible consequences. To that end, I made appointments to do a classroom circle in each of our College and Career Readiness classes. I shared with them the data around last year's attendance and asked several questions.
The first question was very simply, "What does this data suggest to you?" The range of answers surprised me, but there were very clear themes that arose. First, for a student to attend, the curriculum must matter and have relevance. Two, policies matter and will influence a student's decision to attend a class or not. Third, mental health plays a significant role in student's ability to be in school regularly and attend with intention. Finally, senioritis is real.
As the instructional leader, instructional relevance was of particular interest to me. There was a range of what caused a class to have relevance, but the fact that most seniors are completing very few courses that are actually required for graduation (2 semester long and one year long class for most seniors), many students indicated that because it is not required, if it does not matter to them they will not attend. They described classes with relevance classes as classes that teach skills they will be able to use once they leave high school, and classes that provides learning activities that they could not do on their own at home. This includes classes that are hands on, have numerous opportunities for discussion and application, and provided intellectual stimulation. In short, if a class is engaging and interesting, they are far more likely to go. Bonus points if the content also feels as though it is applicable to their next steps.
It was interesting to hear students talk about the impact of school wide and individual classroom policies as it relates to attendance. Students indicated that consistent enforcement of what constitutes an excused and unexcused absence has been helpful, as has the clarifications that went out at the start of the year. Students indicated they are far more likely to go to classes with in-class activities and requirements that you have to be there to benefit from. If not attending is going to have a direct, negative impact on the student's grade, or the effort to reconstruct the learning opportunity in order to earn the points is too cumbersome, students are far more likely to attend. Many students indicated that family policies had the biggest impact. Students who indicated their parents will hold them highly accountable for missing a class are far less likely to skip a class.
Mental health is of significant concern. We are seeing ever-increasing amounts of anxiety and depression, and this has a significant impact on a student's ability to come to school regularly. Many spoke of the stigma associated with this, and the challenges with reaching out for help. Ensuring a strong community within classes, a high level of trust in the instructor, and a perceived believe that the teacher believes they can succeed despite challenges all were listed as possible protective factors to this troubling issue. This is in addition to the very real need for adequate mental health resources for our students. Having alternative supports for students is critical.
Finally, senioritis is real. Many students spoke of having their head in their next steps after high school, making it difficult to focus on the here and now. Others spoke of being so uncertain of their next steps that there is anxiety about finishing, leading to some self-sabotage. They were transparent in their knowledge of how to "game" the system after being in school for this long. They know what they can and cannot get away with in terms of attendance and are more likely to push the envelope.
Seniors suddenly have to prioritize differently as many of them find themselves holding down a job, completing college applications, finishing (or starting) their senior project along with a challenging course load. For some students the priority has to be sleep after working late into the night, causing them to miss their first class of the day. For others, they are missing classes in order to catch up on homework from those classes. All of this while their heads are pulled between the years to come, and the final year of their high school journey. Many described it as a type of limbo, filled with nostalgia, excitement, anxiety, hope and fear. This, as I see it, is at the heart of senioritis.
In almost every class I attended, at least one student cited our Alternative Education program as a reason they attend regularly, or at least that they attend that program regularly. I am very interested in what our alternative education program has done to be so successful in this area that we might be able to replicate in our more traditional settings. I look forward to doing additional classroom circles in our Alternative Education classes and look forward to sharing what the students teach me.
I am not naïve enough to think that I have the answer to the struggles students face in coming to school. However, gaining clear insights into some of the reasons why, gives Ashland High School some solid ground on where to start. What we know for sure is that solid attendance in students' final year of high school leads to less stress and anxiety for all of us, and maximizes student's opportunity to learn in this final year of free education.