By Nicholas Sparks
The Note Book
About the author
Nicholas Sparks is one of the world's most beloved storytellers. All of his books have been New York Times bestsellers, with over 89 million copies in print worldwide, in over 50 languages, including over 50 million copies in the United States alone, and his popularity continues to soar.
Sparks wrote one of his best-known stories,
The Notebook
, over a period of six months at age 28.
Characters
The novel is about Noah Calhoun and Allie Nelson. They are the main characters. But there are others charactercs at the story, like Finn who is a best friend of Noah and loves Allie too. Gus another friend of Noah, Allie´s mother Anne Nelson, Lon who is Allie´s groom and Clems Noah ´s dog.
Plot
The story takes place in a small town in a middle the austere beauty of the coast of North of Carolina. New Bern. Occurs between 1932 to 1946.
The book tells the story of a man who writes your love story in a notebook. Starts telling who he is him. And tells what happened since he met what is now his wife. Noah Calhoun , a rural Southerner, falls in love with a girl from high society and live an idyllic summer marked his life forever. Allie 's parents stand and separate . Noah sends letters for two years , every month, but she was never answered because she didn´t know of its existence because her mother had hidden one by one whenever received . Noah desisted to keep writing and decides to start a new life away from it all . Working a few years with a Jew businessman and then marched as a soldier. He returned home from World War II. Noah, thirty-one, and he receives his inheritance from his former boss and decides to restore of a plantation house that Allie promised the would fix that someday , he never could forget and is haunted by images of the beautiful girl he met fourteen years earlier . Unable to find her, but unwilling to forget the summer they spent together , Noah is content to live with only memories. . . Allie about to marry a wealthy and important man , see a picture of Noah in a newspaper, in which he proves that he fulfilled the promise he made to rebuild the old house. The doubts and memories take over Allie and everything changes at that time , she realizes that she still loves him with all his strength and never been able to forget . His mother to search the village and she says she knows the truth about the letters arrive, Allie tells all to her boyfriend and he forgives her , but tells her that she is the one to decide and she decides to stay with who tells his heart. Noah marries and has three children and one granddaughter. Years later he leaves his family and makes the house he built an asylum where she (Allie) has Alzheimer's and he ( Noah ) was the old man who reads the diary, the notebook, to remember who he is for ever attended, accompanies her to her recent days.
Some Vocabulary
betraying: traicionar
broadly : en general
creek: arroyo
embraced:abrazado
faint: débil
flood: inundación
gingerly: cautelosamente
glowing: brillante
groans: gemidos
hag: bruja
hinted:insinuado
hips: caderas
hurts: duele
instead: en lugar
lacking: carente
misled: engañado
nodded: asentido
oak: roble
reckless: temerario
rustling: susurro
shattered: destrozado
slightly: ligeramente
soul : alma
squinted eyes: ojos entrecerrados
stepped: intensificado
timber: madera
towelling off: secarse con la toalla
tucked: escondido
wondered: preguntado
I called attention to a book by an American author had written words like favourite, colour, savour, honour etc with ou vowels, these words have ever seen with a single vowel o in american english.

My opinion
I think it was a very emotional book, is a novel that inspires you to want to read it to know what happens to the end. It's a highly entertaining read. I did not know what had movie and saw to compare and prefer the book because described the story in detail. Also the order in which the story is told is very different in the book begin by the end of the movie , so things have and different order. I like so much and recommend it for those who like the romance novel with some reality .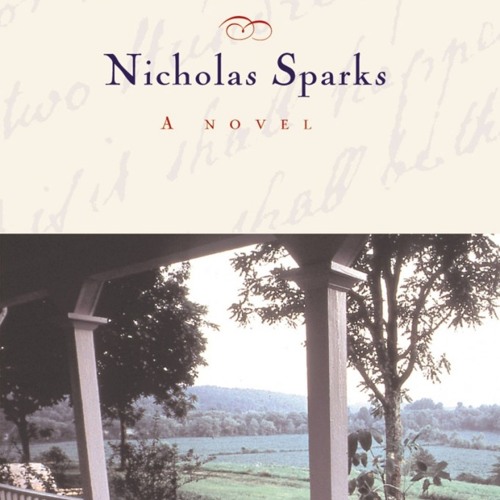 user728071534
Audio De Un Trozo Del Libro The Notebook by user728071534
Para el audio
She was pretty, he remembered thinking, and when he finally joined them, she looked his way with a pair of hazy eyes. "Hi," she'd said simply as she offered her hand. "Finley's told me a lot about you."An ordinary beginning, something that would have been forgotten had it been anyone but her. But as he shook her hand and met those striking emerald eyes, he knew before he'd taken his next breath that she was the one he could spend the rest of his life, looking for but never find again. She seemed that good, that perfect. From there, it went like a tornado wind. Fin told him she was spending the summer in New Bern with her family, because her father worked for a tobacco firm, and though he only nodded, the way she was looking at him made his silence seem okay. Fin laughed then, because he knew what was happening, and they stayed at the festival until the crowds were thin and everything closed up for the night. They met the following day, and the day after that, and they soon became inseparable.