My Diary from Here to There
Presented by Lindsey Erickson
Citation
Perez, A. (2002). My diary from here to there. San Francisco, California: Children's Book Press.
Book Information
Grade Level:
3-5
Author:
Amada Irma Perez
Illustrator: Maya Christina Gonzalez

Genre: Non-fiction
Topic: Families/Multiculturalism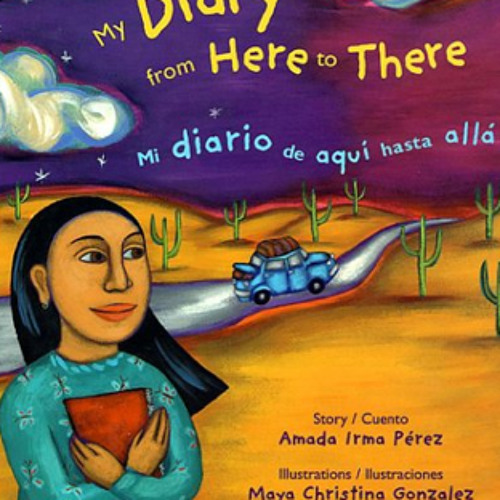 Lindsey Erickson
My Diary from Here to There by Lindsey Erickson
Awards
Starred Review -
Kirkus Review
Pura Belpra Honor Award - American Library Association
Americas Award Commended Title - Center for Latin Americans and Caribbean Studies
This is an illustration from My Diary from Here to There. This is the part of the story when Amada and her family get to her Nana and Tata's house and the whole family is there waiting up for them. I chose this illustration because family is important and this picture shows how happy the family is to see each other even during the stressful time of moving from Mexico to the United States.

Criteria for Notable Multicultural Books
Diverse Language
Language should reflect distinctive vocabulary, style, and patterns of speech of the cultural group. Throughout the entire book, it has English and Spanish in it. So for the entire story, the children can read it in English, Spanish, or both. It tells the same story just in a different language. The book also has vocabulary that could be new to English readers, those words are italicized so it is easy to find for students to ask questions.
Cultural Character
Characters should authentically reflect the distinct cultural experiences of a specific cultural group. When the family moved away from their home town and arrived at Nana and Tata's house, they were greeted with 50 family members and cultural foods such as tamales, beans, pan dulce, and cinnamon sticks. Mexicans are known for having large families and eating their cultural food.
Illustrations
Illustrations should reflect accurate cultural setting. The pictures are big and bright in colors. This shows the emotion of the characters in the story and gives a picture to the reader of what is going on in the passage. The illustrations show the desert in Mexico and gives the reader an idea of what parts of Mexico look like. The illustrations are detailed accurately to portray the lifestyle of people in Mexico and United States.
Classroom Teaching Application
Grade Level: 3rd

RL.3.3 – Describe characters in a story (e.g., their traits, motivations, or feelings) and explain how their actions contribute to the sequence of events.

The students will create a story quilt showing the emotions/feelings of Amada through the duration of the book My Diary from Here to There.

How to connect this to the lives of your students
This book is about a young girl, named Amada, who one day finds out that her family has to move from their home in Mexico to a new home in the United States. The family moves because the dad no longer has work in Mexico but there are lots of work opportunities in the United States. This relates to students because most of them have had to move or make accommodations to their lives because of their parents work. People migrating from Mexico to the United States is not an irregular thing either.

The book can be connected lives by discussing our culture in the United States and the culture that is in Mexico. The teacher can begin the discussion by asking

"Have any of you moved from one house to another?"
"Have any of you moved from out of town/state?"
"How did it feel starting at a new school?"

These questions will get the students interested and talking about their lives. When they are reading the book, they will have a better understanding of why Amada feels the way she feels at time during the book. My Diary from Here to There can be read in English or Spanish. There are popular Spanish words in the English part that are italicized so students know that people in Mexico use those words a lot and mean something to them.

This book could also be used for Social Studies. The students could make a map of where Amada starts and where she ends in Los Angeles, California. It would let the students explore cities outside of the United States.

How to model what you want them to learn
To model what I want the students to learn, I will read the first page of the book to them. After reading the first page, I will ask them what is happening in the story and how Amada is feeling at this point. Then have the students draw a picture of what they think is happening on the first page of the story. For the rest of the book, have the students draw a picture for each passage in the book about what they think is going on. Once the students are done with the book, they should have their own way of retelling the story in their own words through the pictures they drew. I will also stress that when a Spanish word appears in the English words, to draw a picture of what they think that object looks like in Mexico. This way they are reading and using context clues to what they think the unfamiliar object looks likes.

How will you have them practice this skill
To practice this skill, I will have the students work in pairs. This way the students can take turns reading the book to each other and they can give each other ideas of what to draw for their picture quilt. Having two students work together can also help comprehend what is happening in the story.

How will you apply this to increase mastery
To increase student's mastery of this skill, they will use the same method for working in pairs as usual. They will take turns reading every other page to their partner then discuss what happened in the paragraph they read to increase comprehension.

For high order thinking, after the students have made the story quilt of the book, they can create their own personal diary. They can write what they are feeling or thinking and then draw a picture to go with it.