Childhood
He was born in Oak Park, Illonios in 1899.

He had a father named Clarence, a doctor, and a mother named Grace Hall and she was a music teacher.
Ernest was their second son out of six children.
(Quirk) His mother liked to dress him up as a girl from infancy until he was around 6.
Young Life
Ernest joined the U.S. army in 1918 to work in the Red Cross Ambulance Corps to assist in World War I.
He was put into the 12 Regiment Infantry and met J.D. Salinger.
He received a silver medal of Military Valor for bringing an injured Italian to safety while he, himself, was injured.
He also received a bronze medal for under-fire bravery as a war correspondent.
Ernest was injured by a trench mortar as he was sending supplies and was sent to a Milan hospital.
While in the Milan hospital, recuperating, he met his first love Agnes von Kurowsky.
Ernest's Interests
Ernest had a passion for bull-fighting, he was a football player, he wrote articles for his school newspaper, loved to sail, loved to fish, and was an extraordinary hunter.
Ernest has the legacy of being a author and journalist and received a Nobel Prize for Literature in 1954.
Ernest eventually married four different women.
Ernest did not like his mother as he grew older.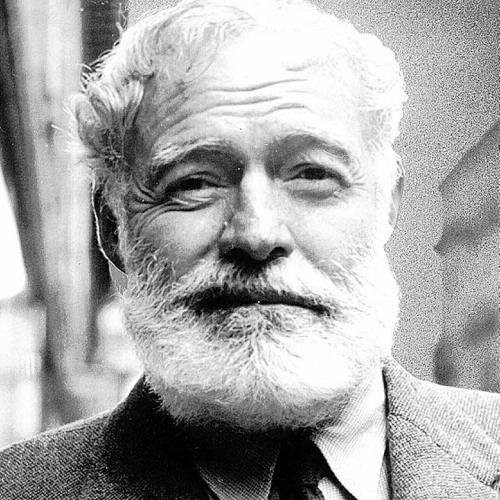 brainpicker
Ernest Hemingway's Nobel Prize acceptance speech, 1954 by brainpicker
Older Age
Ernest Hemingway wrote A Moveable Feast before retiring in his vocation.
Ernest eventually became an alcoholic and depressed with his lack of physical strength and soon lost his mental strength.
Ernest Hemingway was diagnosed with hemochromatosis.
Ernest Hemingway died July 2, 1961.

He ended his life by suicide, using his 'favorite shotgun'.
Ernest Hemingway and his fourth wife Mary are buried in Ketchum's town cemetery in Idaho.

Final Pictures of Ernest Before His Death
Mini BIO - Ernest Hemingway